01 Nov

FoodCycle: Pie in the Sky Cafe Visit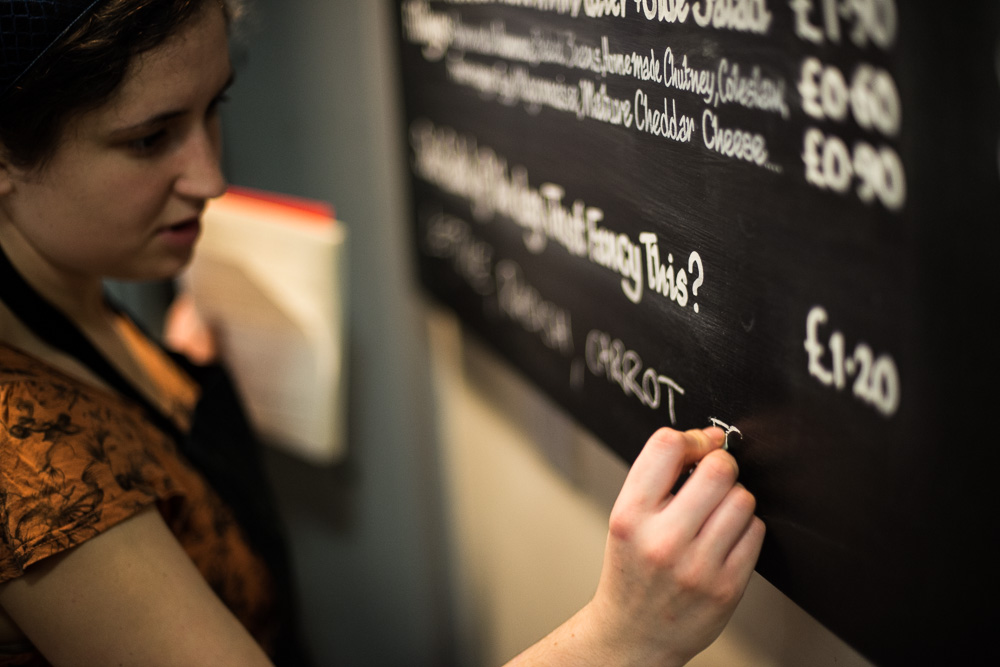 FoodCycle's activities are not limited to the volunteer hubs I have been documenting – the organisation also runs a cafe in Bromley by Bow, which I went to visit on a couple of occasions.
The cafe relies on gathering food that would otherwise be wasted from a variety of sources – including New Spitalfields Market, which is collected early on Saturday mornings.
The cafe has a core body of staff, but is mostly dependent on volunteers – some of whom are there to gain work experience and improve their skills for entry into the catering industry.
Through developing relevant skills and food safety practice, working in partnership with other organisations, both within the training sector and the hospitality sector, ensuring trainee volunteers walk away with a real chance of employment.
68% of FoodCycle volunteer trainees moved onto employment, education or training in 2012-2013
It was a warm and welcoming environment, and the volunteers had a good rapport with Sian, the core member of staff present on the day I was there.
Volunteers include young people not in employment, education or training, young ex-offenders, and people who are long-term unemployed…as well as those who just want to help out and do some good!
As for the food – it smelt great!
The menu is inevitably dictated by what food has been obtained during the collections, and are exclusively vegetarian and vegan.
A lot of passion and care goes into making the dishes, and the result is great tasting meals that cater for a range of tastes.
[easy-social-share shortcode_name="`{`easy-social-share buttons="facebook,twitter,linkedin,whatsapp,messenger,share" sharebtn_func="1" sharebtn_style="icon" sharebtn_icon="dots" counters=0 style="button" point_type="simple"`}`"]