06 Oct

FoodCycle: LSE Hub – Waitrose Visit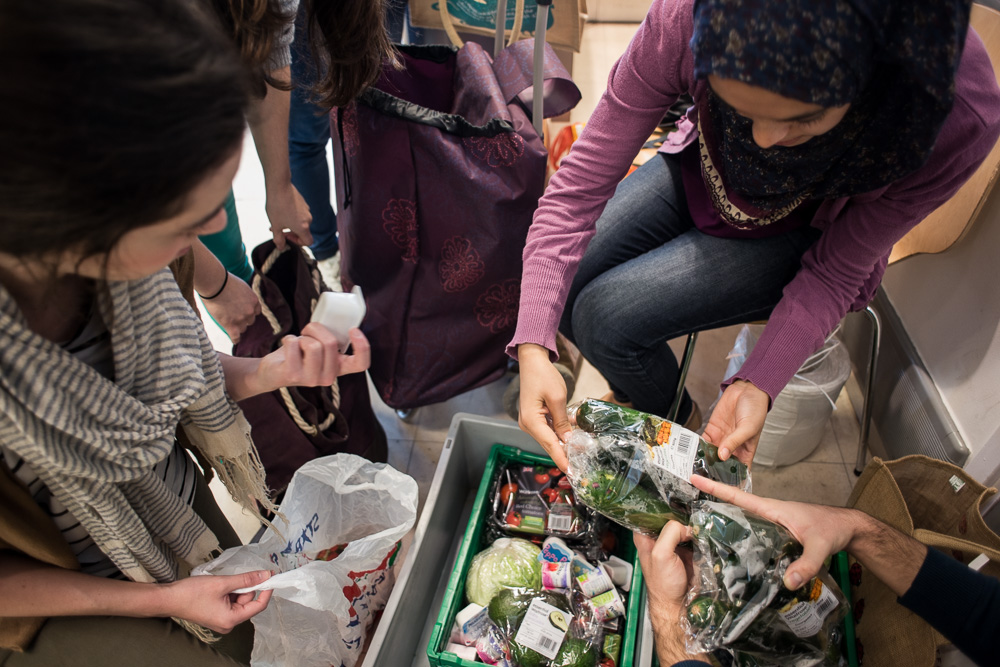 I wanted to be able to document the donation of food by Waitrose to the FoodCycle LSE Hub volunteers, and the management team at Waitrose Islington kindly gave me permission to photograph the Sunday collection.
It was a brief shoot – lasting all of about 15 minutes, and it was a real challenge to capture the volunteers effectively – I had a space of about 1 square metre in which to move, and so essentially all I could do was choose a spot and swivel. Unable to move in any direction freely – not just because of lack of space, but also due to the possibility of bumping into a customer, meant that not very many images were captured, and fewer still were of good enough to keep – the 2 images used in this post (inc. the featured image above), being the strongest.
The amount donated by the supermarket varies greatly, as does the type of food – this inevitably impacts greatly on the menu, and creates the need to source additional ingredients from elsewhere. Thankfully for the LSE Hub, they have a good relationship with a stall at the nearby farmers' market – a source of good quality fruit and vegetables.
FoodCycle currently reclaims around 3,000kg of surplus food each month from all its current providers across the UK, with which it creates around 2,400 meals.
When collecting the food from Waitrose or any other supermarket, the volunteers always check the 'Use By' dates of each item – with anything past its 'Use By' date being rejected, and left for the supermarket to dispose of.
For information on the difference between Use By, Best Before and Display Until, visit the Love Food Hate Waste website.
[easy-social-share shortcode_name="`{`easy-social-share buttons="facebook,twitter,linkedin,whatsapp,messenger,share" sharebtn_func="1" sharebtn_style="icon" sharebtn_icon="dots" counters=0 style="button" point_type="simple"`}`"]