08 Sep

FoodCycle: LSE Hub Visit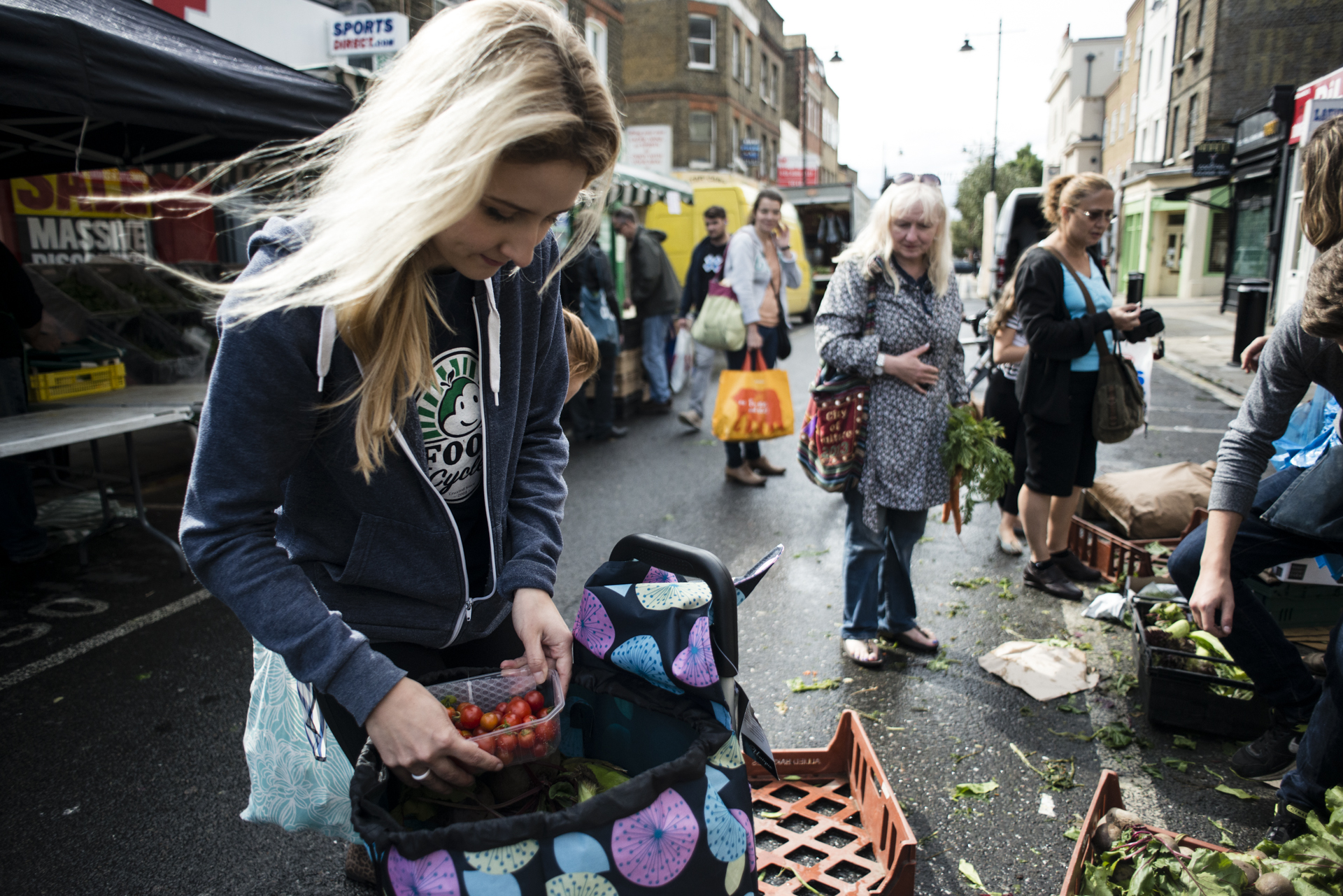 On the same day as my visit to the Bloomsbury Hub I visited FoodCycle's LSE Hub, which despite its name, is open to everyone and anyone. I met them at the Angel branch of Waitrose, where they collected 'surplus' food that would otherwise be thrown out.
Unfortunately I didn't have permission to photograph in the supermarket on this occasion, so had to wait until we made our way to the nearby farmers' market before I could start documenting the activities.
Each FoodCycle Hub has to establish its own relationships with local supermarkets and farmers' markets, with support from FoodCycle HQ, which endeavours to build relationships on a larger scale with the likes of Waitrose, Planet Organic and Sainsbury's.
The FoodCycle LSE Hub have forged a relationship with a particular farm at the farmers' market who before packing everything up, allow the volunteers to take what they want of the fruit and vegetables that have remained unsold. This is an opportunity to get fresh, locally-grown produce to complement what was obtained from Waitrose – which can vary greatly in quantity, type of items and diversity.
The volunteers make their way by bus to a nearby community kitchen which is unused over the weekend, and begin the process of weighing what they have gathered, before discussing what to make with the food they have gathered.
Once the decisions have been made, everybody sets to work – the volunteers have roughly 2 hours in which to make a healthy and nutritious, three-course vegetarian meal for up to 50 guests.
The people being catered for varies from hub to hub within the FoodCycle network – older people, mental health service users, homeless people, low-income families, asylum seekers and refugees, and the long-term unemployed. In the case of the LSE Hub, mental health service users are being catered for.
As with the Bloomsbury hub, it really is impressive to see a group who are largely strangers to one another, come together and rise to the challenge every week. With so many variables – from the number of volunteers who turn up, and number of guests who come for food, to the type and quantity of food – it is an impressive sight to see great food being produced every time. And for the Hub Leaders to manage the volunteers and the tasks at hand with real professionalism.
The FoodCycle volunteer network gives almost 2,000 hours of their time each month. Their 16 Hubs are semi-autonomous local projects where the volunteers Hub Leaders are trained, supported and empowered to collect surplus food and cook what they gather in spare kitchen spaces in the local area.
At 17.00 the guests are queuing and ready for service. The timing of the dishes has to be just right – ensuring that every course is ready to serve at the right time.
The guests' situations vary, as do their characters, but they are always clearly appreciative for the food being provided – even if it's not always communicated.
[easy-social-share shortcode_name="`{`easy-social-share buttons="facebook,twitter,linkedin,whatsapp,messenger,share" sharebtn_func="1" sharebtn_style="icon" sharebtn_icon="dots" counters=0 style="button" point_type="simple"`}`"]